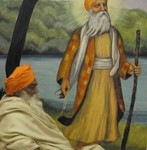 KITCHEREE
Often disease in the body is due to sluggish digestion (agni) and elimination (apana). Adding kicheree (mung beans and rice) to your basic diet soothes the digestion and provides complete protein with all essential amino acids. Kicheree is ideal for rebuilding strength during and after illness, when digestion may be weak and health-promoting food is especially needed. The oil or ghee is added after cooking because cooked oils cause free radical damage, which can lead to premature aging. Use of unrefined oils is recommended because most commercially refined oils are rancid and a source of free radicals that inhibit the immune system. Kicheree accompanied by a green salad, homemade yogurt makes a healthy, sattvic meal.
Kicheree is a sort of invigorating spicy soup, featuring mungbeans, rice, onions, garlic, ginger and spices. It provides a very easy-to-digest balanced protein that is ideal for rebuilding strength during and after illness. When I am starting to feel under the weather, one of the first things I do is get a pot of kicheree going. It is easy to make, keeps in the refrigerator for about 4 days, and is so nurturing and feels so good going down! You can decrease or increase the spices according to your taste.
To make 1 gallon (about 10 servings)
4 quarts pure water
3/4 cup mungbeans (organic are definitely best)
1 1/2 cups basmati rice (organic if available)
2 onions, chopped
1/2 cup chopped, peeled, gingerroot
1/4 cup chopped garlic
1 tsp. ground black pepper
1/2 tsp. ground cardamom seeds (optional)
1 1/2 tsp. cumin seeds
1 tsp. crushed red chilies
2 Tbsp. ghee (very clarified butter) (optional)
salt, Bragg Liquid Aminos, or tamari soy sauce
Bring water to boil in a 6-quart pot. Thoroughly clean and rinse beans and rice. Add mungbeans and rice to pot. As the other ingredients are chopped (it's fine to chop ginger and garlic together in food processor), add them to the pot. Add spices. Cook over medium-high flame until beans and rice are completely soft (total cooking time is about 1 hour), stirring occasionally.
Add water as desired for thinner consistency.
Add ghee and salt (or Bragg Liquid Aminos or tamari soy sauce) to taste
This recipe is from Siri Ved Kaur Khalsa and inspired by Yogi Bhajan
MUNG BEANS & RICE
(like Kicheree plus lots of vegetables)
This healing dish combines mung beans (excellent for your digestive system), the trinity roots (onions for blood cleansing, ginger to pick up your energy and garlic to help you detoxify), delicious and healthful spices, easy to digest basmati rice for your kidneys and lots and lots of great vegetables. With the balance of protein and vegetables along with the spices and trinity roots, you can live youthfully on this dish. Add some homemade yogurt on the side, some Bragg's squirted over with a drizzle of ghee and more red chilies sprinkled on top. Add a hot steaming cup of Yogi Tea and you'll be in heaven eating like a divine Yogi.
Serves 6-8
1/4 cup ghee/clarified butter or olive oil
1 onion
1/3 cup chopped ginger
5 cloves of garlic chopped
1 teaspoon salt
1 teaspoon turmeric
1 teaspoon garam masala
1/2 teaspoon black ground pepper
1/2 teaspoon dried red chili flakes (optional)
7 cups of water
2/3 cup mung beans (pick through beans for pebbles and wash well in strainer)
3 cardamom pods crushed (use the seeds inside)
2 teaspoons dried basil
2 Bay Leaves
2/3 cup rice (wash well in strainer, then let drain)
4 cups of vegetables (I like celery, carrots and zucchini)
Braggs or Soy Sauce or Salt (add to taste at the end)
Make sure there are no tiny pebbles in your mung beans, then wash them in a strainer. Soak them in a four quart soup pot with the 7 cups of water. Meanwhile, cut up your onion, ginger and garlic. Heat clarified butter or Olive Oil in 10″ skillet. Saute' onion, ginger and garlic with one teaspoon of salt for 15 minutes.
Move the onion mixture around to the sides of the pan and put in your turmeric, garam masala, black pepper and optional chili flakes into the center of the pan (there should be some oil in there, if not, roll the pan a bit to get the oil to flow in the middle). When the spices start to sizzle, time 30 seconds. Then mix the spices in with the onion mixture thoroughly. Then add this onion/spice mixture to your soup pot of mung beans. Also add the cardamom pod seeds, dried basil and bay leaves
Bring to boil, turn down, cover with lid and boil for 30 minutes on low heat. Meanwhile, cut up your vegetables. Add veggies and washed rice to the soup pot. Bring back up to a boil and turn down low covering for 20 minutes. Be sure to stir half way through so rice does not stick. If it needs water, add 1/2 cup of water at time stirring and bringing back up to a boil each time. This can be a thick stew like soup or have a thinner consistency. It depends on how you like it.
At the end add Braggs or salt to taste.
You can find ghee, garam masala, turmeric, cardamom, mung beans and basmati rice all at your local Indian Grocery store. Braggs Liquid Aminos similar to soy sauce, but is healthier and has a delicious brothy taste.
The proportions have been altered in this recipe to help make a smaller quantity of Mung Beans & Rice from Yogi Bhajan's original recipe which you can find in a book called From Vegetables With Love by Siri Ved Kaur Khalsa.