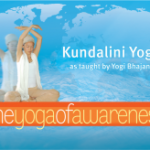 KUNDALINI YOGA & MEDITATION
Kundalini Yoga as taught by Yogi Bhajan is a 5,000-year-old authentic system of yoga exercise and meditation that promotes health, happiness, and spiritual awareness. Combining breathing, movement, stretching, and sound, Kundalini Yoga is a safe, comprehensive technology that can be practiced by everyone. Practicing Kundalini Yoga keeps the body in shape, increases vitality, and trains the mind to be strong and flexible in the face of stress and change. It balances the glandular system, strengthens the nervous system, and enhances creative potential. Through yogic breathing techniques and meditation, peace of mind can be obtained, giving an experience of deep inner calm and self-confidence.
Through Kundalini Yoga people have healed themselves of the pain of physical illness, mental pressure, drug and alcohol addiction, and more. Because Kundalini Yoga develops the total person, practitioners also become more intuitive and more sensitive within the shortest period of time. Kundalini Yoga is much more than just a system of physical exercise. The technology of Kundalini Yoga is aimed at the spirit that has no boundaries. Therefore, it is universal and non-denominational. No matter what path a person follows, Kundalini Yoga helps practitioners experience what they believe.
Kundalini Yoga is taught in over 300 centers in 23 countries by teachers trained by Kundalini Yoga Research Institute (KRI) with International Kundalini Yoga Teachers Association (IKYTA) and www.3ho.org
 FAQ webpage for frequently asked questions about yoga, and what you need for class.  
 Atma can also arrange a class or series of classes that will

fit your schedule

for you, your friends, or your business 757-595-3746 or atma2@verizon.net 

C

lass cancellations will be posted on my  

calendar

 webpage
---
KUNDALINI YOGA & MEDITATION CLASSES WITH ATMA
THURSDAYS  12:00 PM – 1:15 PM  
*Class drop-in's and beginners are always welcome!
Classes include breath work, dynamic yoga, guided relaxation, and stress-relieving meditation.  Classes are designed so you can move at your own pace and make it a gentle or deep workout.  Experience the gentle healing sounds of the gong during long deep relaxation.  Loose excess weight physically and emotionally!  Be your beautiful, radiant self!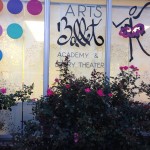 *FIRST CLASS IS HALF-PRICE! $7.50 ~ please pay at class
Pay 0n line OR at class with cash, check, or credit/debit card:
  Single Class: $15* 
  Students, military, seniors  Single Class: $12 
  5 Class package:  $50.00 (expires 6 months after purchase date) 
10 Class Package:  $95.00 (expires 6 months after purchase date) 
Location: Arts Ballet Academy, 11009 Warwick Blvd., Newport News, VA 23601  *Check out all the classes offered for adults at Arts Ballet Academy ~ adult dance, physical conditioning (like Pilates), and NIA classes!
Contact Atma: atma2@verizon.net or 757-595-3746
---
CHILDREN'S/TEENS/FAMILY YOGA CLASSES WITH ATMA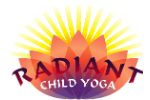 Children's Yoga classes: we use imaginative poses, singing songs, and playing games. We are playful, pretending we are many things, such as cats, dogs, trees, and mountains. We imagine traveling to such places as the garden, seashore, or mountains. The class moves through poses quickly to keep the children's attention and to release energy. We help them build a greater awareness of their body physically and emotionally. Often this leads to greater self-discipline, self-confidence, better body coordination, and ability to focus.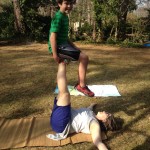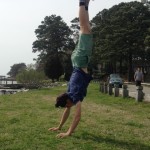 Teens Yoga has elements of adult yoga class and children's yoga.  Partner poses and group yoga games are often included to provide the experience of teamwork and trust with others; also learning to lead yoga poses provides teens with leadership and confidence-building skills.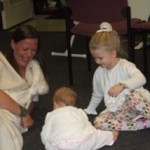 Family Yoga is a class where families can gather with their children and do yoga and meditation together.  Yoga, meditation, games, and dancing! Parents/Adults are active participants with their child, no observers. So much fun and a great workout! Bring everyone: dads, grandmothers, grandfathers, aunts and uncles! Any baby over 6 weeks old is welcome. One participating adult for 1-2 children.  Class follows a flexible structure based on the age, interest, and ability of the children present.
*Talk with Atma to arrange a children's/youth/family yoga class or series of classes that will fit your schedule and your needs: atma2@verizon.net or 757-595-3746
---
PRIVATE YOGA CLASS and HEALING SESSIONS WITH ATMA
Private Classes and Healing Sessions for individuals, couples, and families.  You can use customized and individualized instruction can address special needs or to set personal goals.  Private classes and healing sessions can also help to control debilitating symptoms, pain, and balance the emotions.  Classes/Sessions can produce a deep state of relaxation, freeing the body's energy for health and well-being.  The benefit is immediate and is often experienced as the release of symptoms and stress.
To make an appointment, call  (757)595-3746 or atma2@verizon.net  (located in Newport News, VA)
Private yoga class: tailored to the student, it involves personally tailored Kundalini Yoga instruction that includes warmups, a sequence of poses (Kriya) , guided deep relaxation, and meditation as well as time to talk during and after class, plus yoga, meditation and dietary suggestions just for you.  A class is usually one to one and 1/2 hours.  You can pay by cash, check, or credit/debit card in person or online:  one private session is $85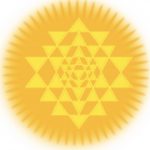 Heart Breath/Soul Answer Healing Sessions – free:  I am also a student in the 3-year "Soul Answer Healing" Training program* to become an accredited Yoga Therapist in this technology.  I am just entering my second year and am holding practicums with clients.  There is no charge for these sessions.  I would be honored to have you participate in one or up to five for free.  Prana is the yogic name for the life force that flows through all of us.  This safe and effective practice involves using that powerful healing energy intuitively to open and release blocks to bring balance and health.  Heart Breath is an essential healing breath meditation and the basis of Soul Answer Healing.  In a session, your remain fully clothed and lie face-up on a massage table.  You are taught Heart Breath meditation.  Hands-on is optional and up to the client.  Some of the methods used in a session are:
• Healing Energy
• Acupressure touch
• Regression to past lives or earlier in this life.
• Guided conversations with your own Soul
• Intuited information and guidance
• Yogic technologies
• Tremendous protection, love and transformation
Please go to http://www.soulanswer.com  for more information and resources about  Soul Answer Healing.
To make an appointment, call  (757)595-3746 or atma2@verizon.net  (located in Newport News, VA)