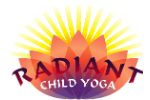 POSSIBLE CHILDREN'S YOGA CLASS with Atma on Thursday evenings/and or Sunday afternoons, beginning in 2019 !
Animal Adventure Yoga 3 -7 years:  possibly beginning in  2019 on Thursdays,  5:30 -6:30pm.  In children's yoga classes, we use imaginative poses, sing songs, and play games.  Developing a greater awareness of their body physically and emotionally can lead to greater self-discipline, self-confidence, better body coordination, and ability to focus.  And it's fun!  Your child can attend while you or/and older sibling attends the new PIYO Class that maybe offered at the same time (PIYO = Pilates and Yoga for teens and adults)!
If interested, call Atma (757)-595-3746 or email atma2@verizon.net or contact Arts Ballet: email artsballet@gmail.com, Phone: (757)504-4450
Class Location: Arts Ballet Academy, 11009 Warwick Blvd., Newport News, VA 23601
*Check out all the Arts Ballet children's classes ~ early childhood music & movement, ballet, modern,  jazz, musical theatre!